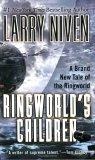 di Larry Niven
The differences between ally, servant, slave, and sled dog blur when the difference in intelligence is great enough.
Tra la Fringe War degli avvoltoi della galassia, il graduale degrado cui è soggetto Ringworld, e il graduale degrado dell'autore, solo un protettore "notturno" come Tunesmith, un protettore "animale", un protettore "umano" e un protettore "antichissimo" (Pak) possono risollevare lo stato d'animo del lettore e, chissà, le sorti del più grande, complesso e sconvolgente mondo artificiale mai creato da mente umana.
My head feels futzy. Full of cotton. I never felt so much myself as when I could think like a protector.
Blind Spot…